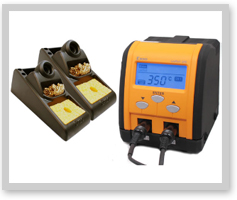 The heater & the sensor are integrated in the tip.
(patent no.0037616)
Excellent thermal recovery performance using
PID control.

LCD with backlight is employed for better visuals.
Soldering iron of quick-type is employed for
convenient tip change.

Setting temperature is protected by your
password.Working time is displayed(1ch).
Auto sleepmode.
Auto power-off.