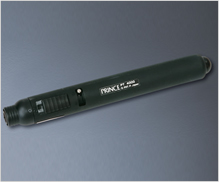 It fits in your pocket.
Gushing flame is so force that it can be used in blowing wind at any direction.

The cap protects user from windshield heat and accidental burning.

Even if the flame is put out while the locking lever is in "LOCK" position,
it will automatically be released by putting on the cap and gas will be stopped, then.

The torch can be used in upright position with rubber stand.